Let Us Help You Find The Perfect Event Venue in Dallas!
Finding the perfect event venue in Dallas is a critical part of the planning process. G Texas provides catering and bar services at event venues throughout North Texas. Beautiful museums, rooftop decks, outdoor gardens, wineries, theaters, civic centers, concert venues and wedding spaces are just a few of the choices that we offer as a setting for your group. Our event planning team will schedule site visits, create floor plans and manage the logistics so that you can focus on your guests. Contact us and find the perfect venue for your event today!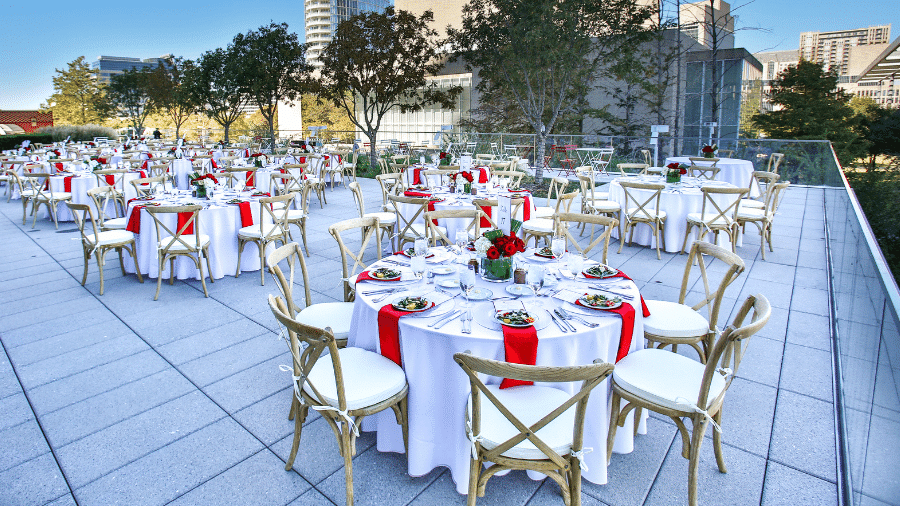 The Artisan Rooftop Terrace
The Artisan's stunning Rooftop Terrace event venue is located in the heart of Downtown Dallas. Its Rooftop Terrace boasts incredible views of the Dallas Arts District and is surrounded by beautiful, contemporary works of art. This premier event venue in Dallas is the perfect space for stylish corporate, social, charity events and weddings.
CrashedToys
CrashedToys is one of the most innovative event venues in Dallas offering the perfect mix of modern and industrial elements that all-together give each event space a rustic yet refined feel. Its extensive inventory of motorcycles, exotic cars and powersport vehicles create an exciting atmosphere that will leave a lasting impression on guests at your special event.
Gilley's Dallas
Gilley's Dallas is famous among the DFW music scene for its great concerts. It also serves as one of the most sought-after event venues in Dallas because of its 7 unique spaces under one roof. They produce hundreds of world-class events every year, including corporate events, private parties, concerts, weddings and more.
Crozier Hall
111 years of Dallas history reside within the walls of Crozier Hall. Crozier Hall was once a high school and business magnet school but has since been renovated to be used as an office and event space with ample natural lighting. The space is perfect for meetings, ceremonies, weddings, and celebrations for 10 – 200 guests.
On The Levee
On The Levee is a flexible event and wedding venue in Dallas. It blends the area's industrial roots with the neighborhood's evolving commitment to modern elegance and style – all while being situated directly next to the Trinity River Levee. With 22 foot ceilings, two spacious lounges of over 600 square feet, and over 12,000 square feet of flexible event space – On The Levee can be shaped to your needs and imagination.
Fair Park
Take your event to the next level by hosting it in one of Dallas' most vibrant and memorable destinations. Fair Park is a location like no other, offering both a beautiful park environment and the largest collection of art deco exhibition buildings in the world. Fair Park hosts' a variety of events at each of our venues year-round.
FIG: Fashion Industry Gallery
Along with housing one of the leading fashion markets in the nation, FIG doubles as one of the most coveted event spaces in Dallas. The FIG special events venue is approximately 28,000 square feet of sleek, contemporary loft space within a mid-century modern building in the heart of Downtown Dallas. With exposed brick walls, polished concrete floors and natural and directional lighting, and additional spaces including a promenade adjacent to a private park, a spacious lobby and an intimate lounge, the space is a blank slate that can be transformed into the optimal backdrop for limitless events. From formal seated dinners and cocktail receptions to art shows and weddings, FIG can accommodate between 20 to 1,500 guests.
AT&T Performing Arts Center
There is no better place to explore and experience live performing arts than the AT&T Performing Arts Center in the Dallas Arts District. On its vibrant 10-acre campus, sits three of the nation's finest performance venues: the Winspear Opera House, Wyly Theatre and Strauss Square. G Texas Catering is the Center's exclusive provider of alcoholic beverages, catering and concession services.
Cavanaugh Flight Museum
The Cavanaugh Flight Museum keeps American Aviation heritage alive by restoring, operating, and maintaining vintage aircraft. Guests are certain to leave with lasting memories after exploring firsthand the history this incredible event venue in Dallas has to offer!
Community Beer
Community Beer is well-known for its locally-brewed craft beers. Its spacious, centrally-located brewery is also one of Dallas' premier event venues for corporate and social gatherings, weddings and celebrations of any kind.
The Pavilion at Toyota Music Factory
The Pavilion at Toyota Music Factory is sure to be one of the most legendary venues in the Dallas/Fort Worth area. Located in the heart of the Metroplex, The Pavilion at Toyota Music Factory offers ease of access to major airports, walking distance to the Irving Convention Center and Irving nightlife, making this the perfect location for your next conference, corporate event, private concert or social gathering. Accommodating up to 8,000 guests and access to the world's greatest musical entertainment, full-service event production, state-of-the-art lighting and sound, custom menus, and mixology, our talented staff handles every detail!
The Kessler Theater
The Kessler Theater impresses guests with its historical significance and contemporary amenities. Built as a pre-World War II, Art Deco movie house in the 1940s, The Kessler has been transformed to provide a state-of-the-art audio and visual experience for both public and private events while retaining an aura and spirit of the past. G Texas Catering is a preferred catering provider at this venue.
Spark!
Spark! is one of the most unique event venues in Dallas. What makes Spark! unlike any other event venue, are its interactive elements like a Giant Light Bright and 6,000-foot Climb, Crawl, Slide Sculpture. If you're looking to host a corporate party, happy hour, birthday, wedding or charity function that your guests will never forget, Spark! is the perfect space for your event!
1010 Collins
1010 Collins Event Venue boasts 18,000 sq. ft. of space in the heart of Arlington, TX. Its spacious, modern ballroom and state-of-the-art audio-visual capabilities make it the perfect venue for both corporate and social events like Quinceaneras, proms, charity events and weddings.
The Marq Southlake
The Marq is located just minutes from Dallas in beautiful Southlake, TX. With 23,000 sq ft. of customizable event space, The Marq is the perfect venue for meetings, luncheons, conferences, fundraisers, weddings and social events!
Hall of State
One of Fair Park's most esteemed and beloved landmarks, the majestic Hall of State event venue features a remarkable architectural design and rich history for events of different sizes and settings. An elegant seated dinner or award ceremony are just a few of the many possibilities for guests who are looking to book an event here.
Avalon Legacy Ranch
Avalon Legacy Ranch is a 25-acre event space in McKinney, TX. The event venue features a well-appointed indoor venue, covered outdoor deck, expansive gardens, a private lake with a covered bridge, and an absolutely stunning outdoor chapel.
Cotton Mill McKinney
The McKinney Cotton Mill brings ͞industrial elegance to weddings and events with its 100-year history and rustic event spaces. From the scenic hidden garden to the stunning indoor ceremony space, this venue delivers just about any setting for your upcoming nuptials!
Texas Discovery Gardens
Texas Discovery Gardens is a non-profit native garden and butterfly house, located in Dallas' historic Fair Park. The gardens boast 4 beautiful event spaces in their urban oasis! G Texas Catering is a preferred catering provider at this venue.