Exciting developments are underway for 2017 in the Dallas Arts District. A groundbreaking was held for the $250 million Hall Arts Hotel and Residences project on April 21st and the city is moving forward.
The Hall Group is investing in revitalizing the image of the Dallas Arts District with new restaurants and residencies being built this year.
The hotel and residences are in its second stage of development. Just off of Flora Street will stand a 25-story residential high rise that is expected to house more than 40 condominiums. Right off the corner of Ross avenue and Leonard Street will stand a 183 room luxury hotel.
Developer Craig Hall stated that the final project will embellish the Arts District and hopefully produce more housing and visitors.
"Three years from now I hope we will see a much more vibrant community here, with a lot of people on the street. We'll see a very safe, great neighborhood," he said. "Right now, three million people come to the Arts District — but they come and go, they don't come and stay. I want them to come and stay and walk around. I want the Dallas Arts District to be a place that's talked about worldwide."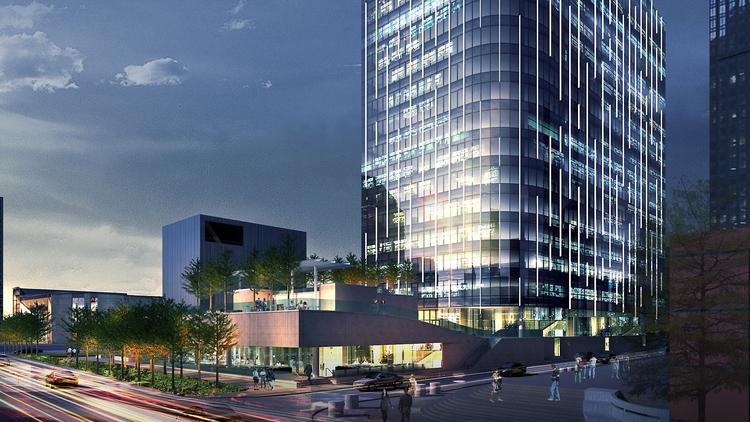 Phase one of the project was completed back in 2015. This produced the 18 story KPMG Plaza office tower. G Texas has announced that it will be serving lunch everyday Monday through Friday out of the Terrance Bar. They will be introducing a limited market style menu first and then widen the menu throughout the weeks. You can find the contemporary menu here.
Soon G Texas will be offering delivery to the tenants of the KPMG building.
Last but not least, in the Fall of 2017, G Texas will be presenting their concept restaurant "The Artisan" to the KPMG building. The Artisan will offer a stylish and comfortable setting for executives and Arts District patrons to enjoy a freshly pressed cocktail accompanied by unique and flavorful chef-prepared bites and tapas.