Chandon Arbors is a breathtaking event venue with a French Country design offering custom wedding packages, catering and event planning services in Keller, Texas
Schedule a consultation with G Texas Catering: 214-421-0774
Chandon Arbors is a romantic event venue with a French Country design that exudes style and elegance for your wedding. Set to open in the coming months, guests will be able to book events at this venue starting in late July, just in time for a dreamy summer wedding. Chandon Arbors has been meticulously designed with hosting the perfect wedding in mind, providing natural surroundings, a beautiful garden backdrop, and breathtaking architectural elements that will impress both family and friends. With three private acres in old town Keller, Chandon delivers a serene setting and exclusive access to their property for your nuptials. This 15,000 square-foot venue provides premium accommodations and a variety of event spaces, along with comprehensive event planning, catering and bar services to meet all your event needs.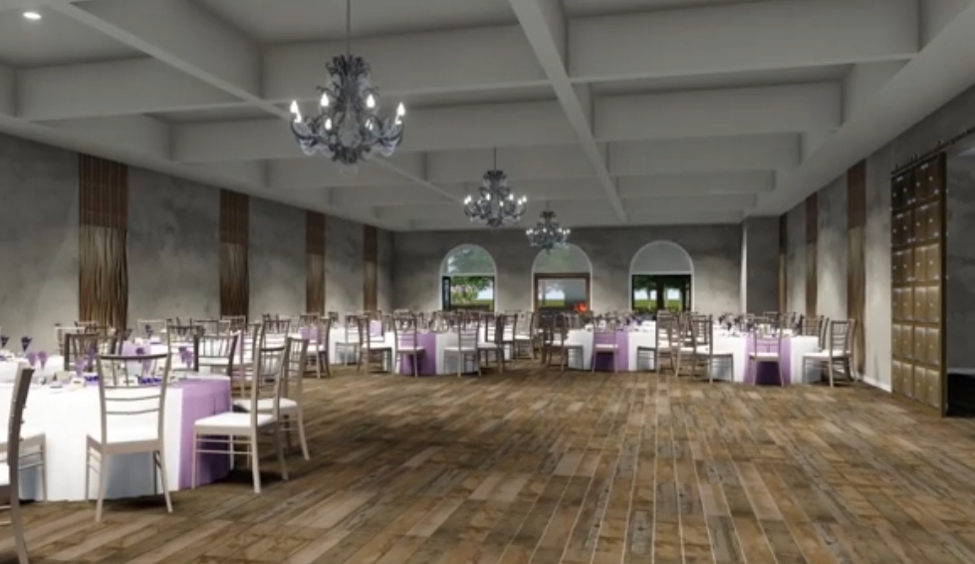 Schedule a consultation with G Texas Catering: 214-421-0774
A romantic wedding venue with a variety of event settings
The luxurious design of this venue will transport your guests back to the style and elegance of the 1920's and 1930's, incorporating a French Country design for added romantic appeal. The property features a foyer, ballroom, indoor and outdoor ceremony spaces, and private spaces for your comfort and convenience. Cantera Iron and glass double doors open to the Grande Foyer, which includes a vaulted barrel ceiling with a candlelight chandelier to dazzle your guests upon entering. With over 3,400 sq. ft. of space, the Grand Ballroom is the largest room with an unrestricted view of the facility's beautiful grounds. Wood flooring, sixteen candle light chandeliers, and the eight columns that surround the reception room with 12 x 12 glass mosaics will provide a romantic setting as you dance the night away after your vows. The vestibule is the venue's "jewel box" of a private space, boasting a gorgeous private area with a 16-lit crystal chandelier that resembles clusters of teardrops. The impressive and glamorous design of this space delivers amazing photo opportunities for you and your guests.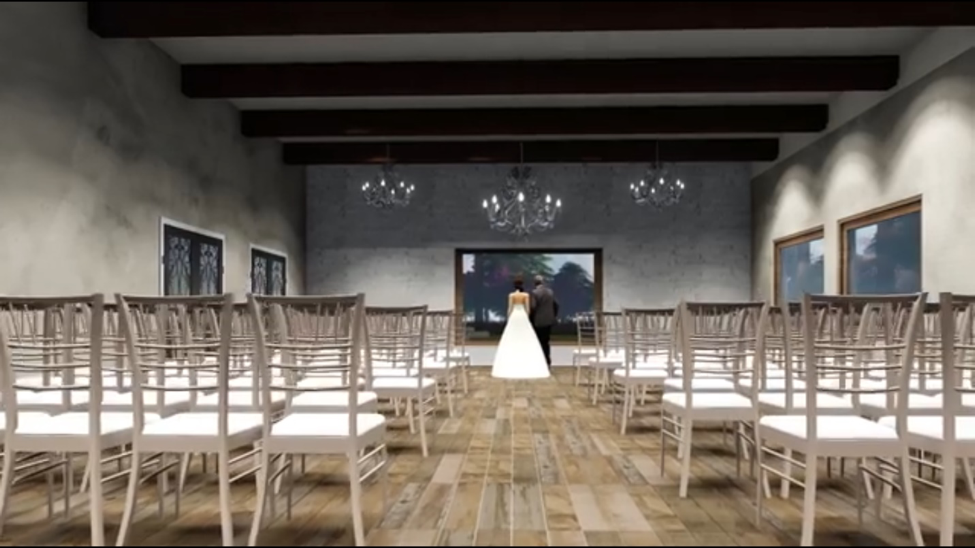 Schedule a consultation with G Texas Catering: 214-421-0774
The venue's versatility will accommodate a variety of occasions with outdoor and indoor ceremony spaces available for booking. The indoor ceremony space delivers a pristine environment, with a "white on white" split stack stones backdrop and large glass windows to allow for natural lighting. The wood flooring and wood beam ceilings present an antiquated charm that will complement the design of your event perfectly. Chandon's outdoor event space is equally breathtaking, displaying a scenic garden and gazebo with French Country trusses for a picturesque ceremony.
The outdoor patios provide a prime view of the beautiful grounds and include a cascading waterfall made of textured mosaic glass tiles. The Cedar Wood Wall and Stone Bar create a seamless backdrop for the cocktail hour or toast after the ceremony, with a fireplace setting that allows seating for twelve. Winding cobblestone walkways will guide your guests through the vibrant and enchanting French Country gardens, complete with arbors and bridges.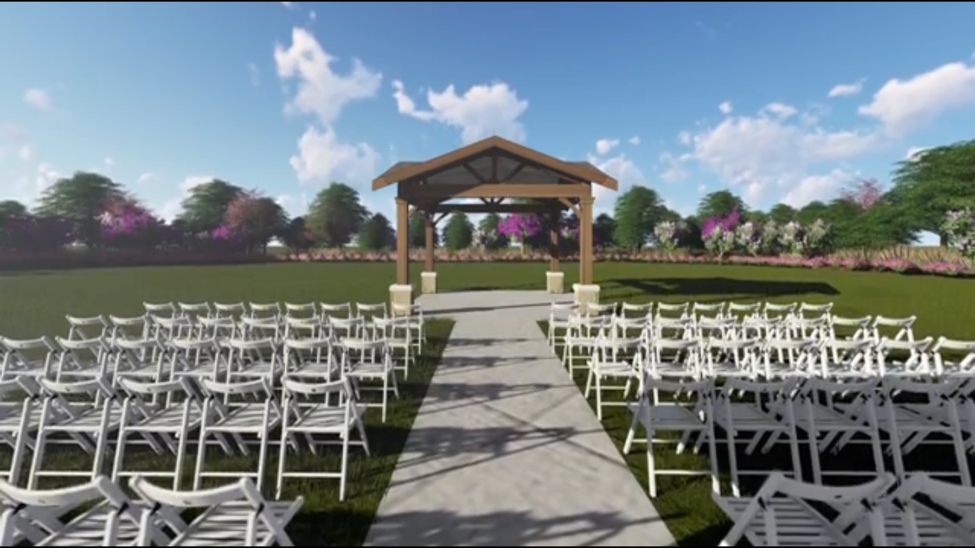 Schedule a consultation with G Texas Catering: 214-421-0774
Luxurious amenities and flawless Event Services for weddings
Guests will enjoy first-class service, luxurious amenities, and top-notch catering and bar services on the day of their event. The Bridal and Groom Suites are wonderful perks that the facility offers for your comfort and ease on the day of the wedding. Drawing inspiration from French Normandy, the Bridal Suite is the epitome of elegance and convenience. The suite features a 14-ft vanity, full 3-way mirror, vertical lighting and private bathroom. The Groom Suite is an ideal setup for the guys, featuring a flat screen TV, minibar, and soft seating for optimal comfort and relaxing in style. In addition, the venue provides a full-kitchen for our catering team to prep impeccably plated dinners, and an onsite bar to create the perfect cocktails for your wedding celebration. Custom wedding packages are available with "glitz and glam" upgrades to make your special day a success, and a dedicated team of event professionals will ensure that you and your guests are receiving the highest level of service during the event. Onsite event managers will be present at the day of your event to carefully manage and execute the details, allowing you to relax and enjoy your day without stress or interruption. Chandon Arbors has created the picture-perfect wedding venue to meet your needs and is equipped with a stellar team of professionals who will work diligently to make lasting memories for everyone in attendance.
If you are interested in booking this venue for your next corporate or private function, contact us or one of our Sales Professionals at (214) 421-0774