The G Texas Catering team has been busy this month creating spectacular Holiday events all over the Dallas-Fort Worth area. The holidays are one of our favorite times of the year because of the unique events we get to help bring to life! From an elegant cocktail party to casino night and a circus extravaganza – this year brought out the best in our entire Dallas catering team! Here is a recap of some of our favorite holiday events this year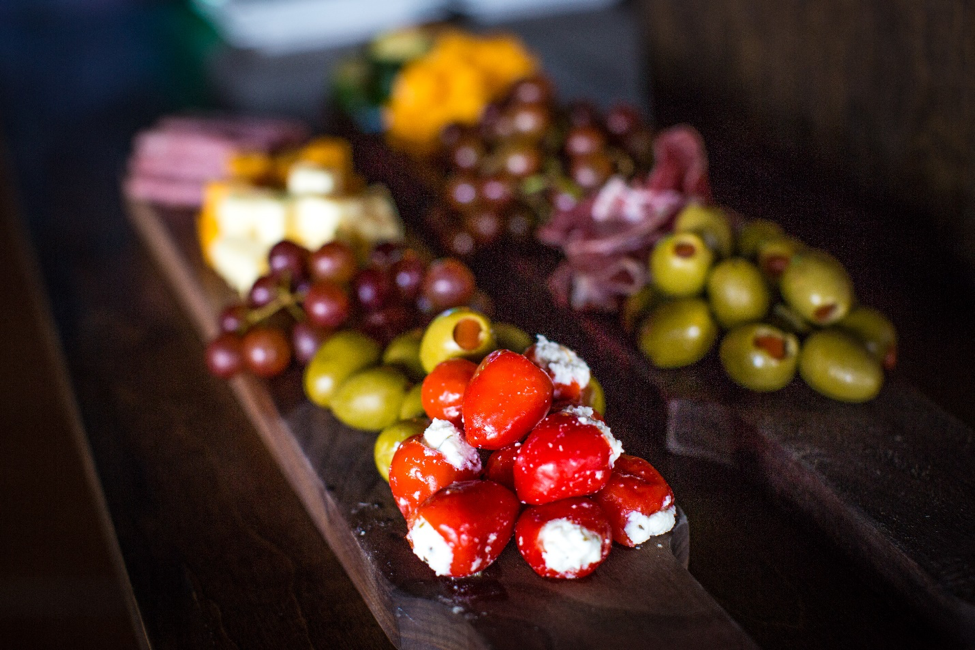 Dallas Events: Friendly Competition at Casino Night
StoneEagle, an industry leader in automotive retail software, hosted their holiday party at CrashedToys, an auction house for motorcycles and sleek cars, each with a scratch and dent story. Their corporate holiday party was casino themed with a Roulette wheel, a Craps table, Blackjack tables and Texas Hold 'Em tables. Along with a variety of Nosh Boards and various stationed appetizers, waiters carried trays of different hor-'d oeuvres such as Jalapeno Mac n Cheese Muffins, Brisket Tostada with Black Bean Refrito and Queso Fresco, Chicken and Smoked Bacon Knot with Fresh Jalapeno and Southern Grits Cake topped with Cajun Shrimp with Lemon Aioli.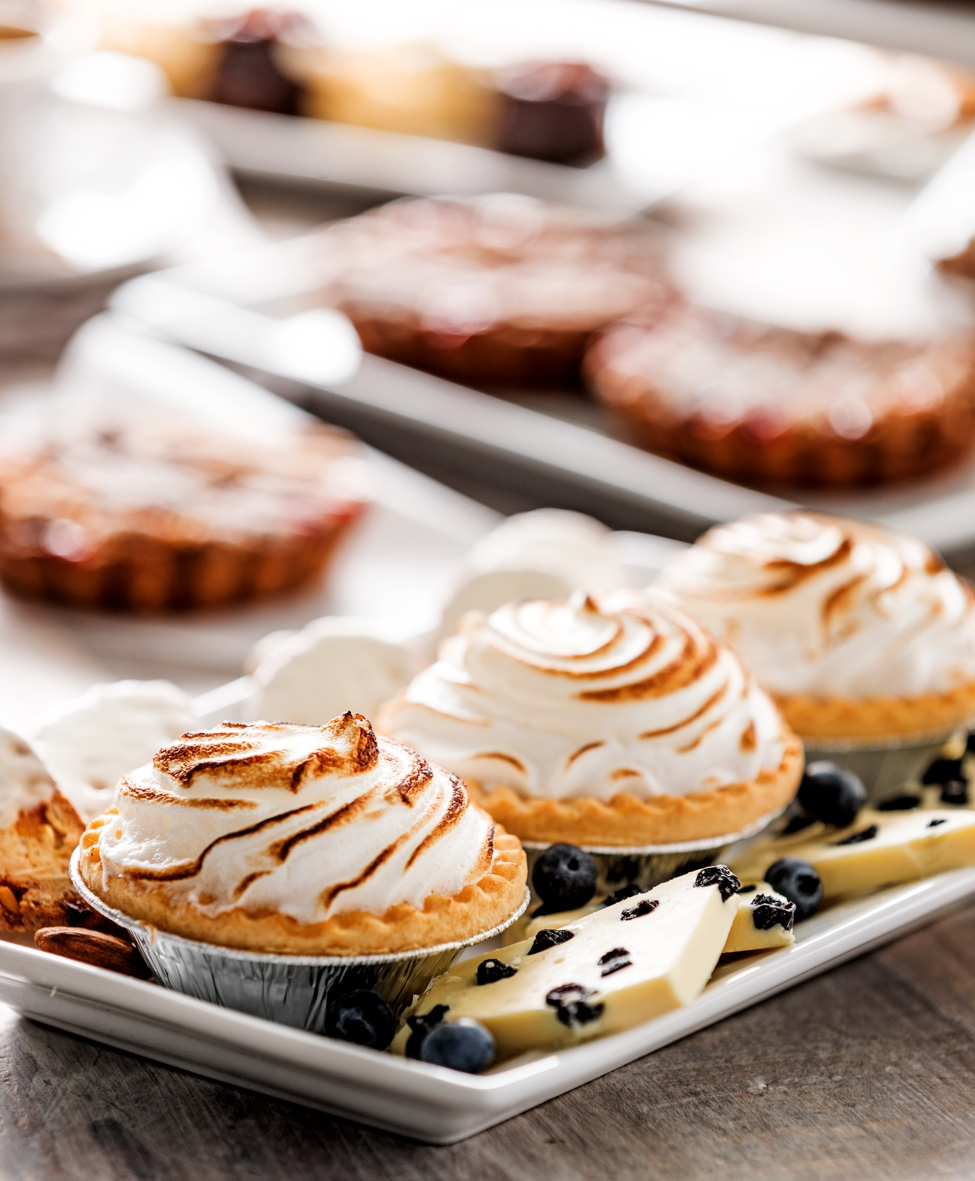 Dallas Catering: A Feast Fit for a King
KPMG, one of the leading tax, audit and advisory firms, had a merry corporate holiday party at Gilley's Dallas. This corporate event for 900 guests began with a Nosh Table made up of Hill Country Smoked Sausages and Cured Meats, Olives, Pickled Okra, Roasted Red Peppers, Spicy Mixed Peppers Stuffed with Feta and Ricotta Cheese, Marinated Mushrooms and Cornichons served with Hearty Grain Mustard, Crostini and Artisan Breads
Asian Stir Fry where guests selected from Fresh Vegetables, Steak, Chicken and chef-prepared 3-Spice Blends paired with Steamed Rice, Udon Noodles, Soy Sauce, Chili Garlic Sauce and the ever-popular Fortune Cookies.
Blackened Chicken Skewers served over Mac n Cheese.
Chef-Carved Smoked Turkey served with Kicked Up BBQ Beans and Sweet Cabbage Cole Slaw.
Sizzling Italian Beef Sliders with Giardiniera and Pan Jus.
A party wouldn't be complete without a Dessert Station made up of Chocolate Silk Tarts with Whipped Cream and our special Amaretto Bread Pudding with Lemon Crème Sauce.
Chef-Carved Smoked Turkey served with Kicked Up BBQ Beans and Sweet Cabbage Cole Slaw.
As the celebration continued, late night food was served from 10:30 to midnight. This station served Grab-and-Go Late Night Breakfast Burritos; Spicy Sausage with Egg and Smoked Cheddar; and Bacon with Egg and Smoked Cheddar. An assortment of colorful, fresh Donuts were displayed on The Party Resource's Donut Wall! Hot Chocolate and Spiced Cider was served to chase away the winter chill before guests made their way home.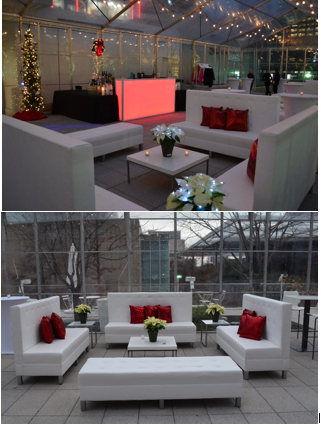 Dallas Catering: Elegant Cocktail Party
The Urban Land Institute works to create thriving communities by monitoring responsible land use, so of course, they couldn't resist the urge to celebrate the holidays with a beautiful view of the outdoors. ULI had an elegant cocktail party on the ARTISAN Terrace. The clear, heated tent was resplendent with hundreds of white lights that created a sparkling winter wonderland. Guests toasted the holidays with two special holiday cocktails, Red Cosmos and Midori Vodka Sours. As guests mingled, they were offered delectable hors d'oeuvres like Margarita Bruschetta with Beefsteak Tomato, Fresh Mozzarella, Fresh Basil and Herb Infused Olive Oil; Hickory Smoked Brisket on a Silver Dollar Roll, Signature BBQ Sauce and Diced Pickle; Blackened Shrimp on Southern Grits Cake with Cilantro Crème Fraiche; Gluten Free Chipotle Honey Glazed Bacon Wrapped Chicken Knot; and our vegetarian Mini Mac n Cheese Muffin with Smoked Cheddar and Panko.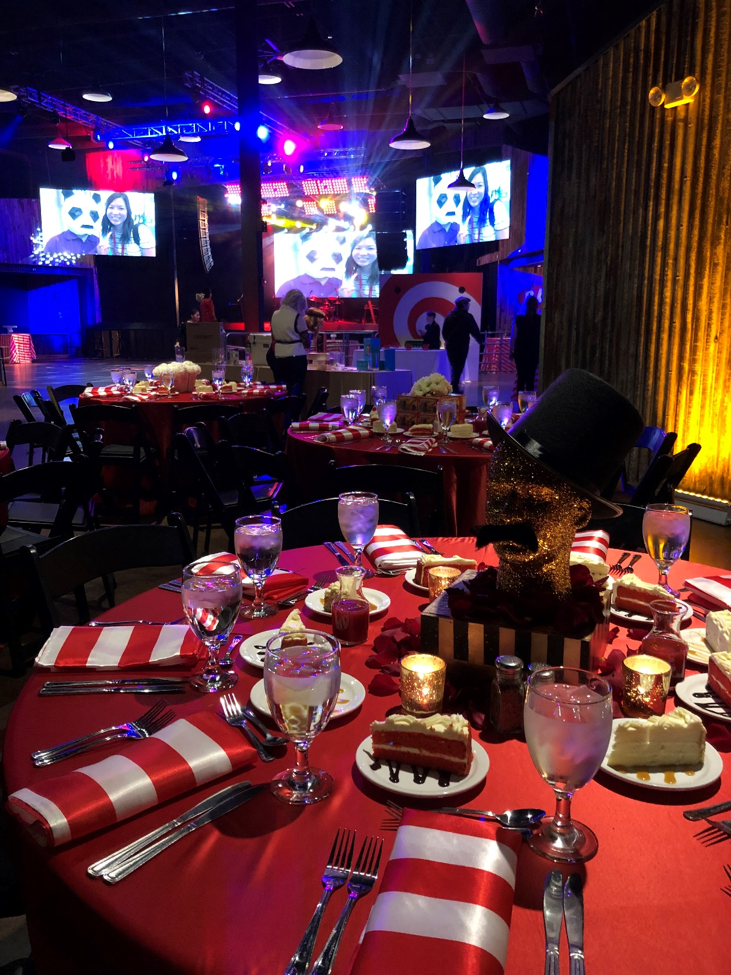 Dallas Events: Christmas Circus Extravaganza
G Texas Catering was busy under the big tent at a circus-themed event for Varidesk at Gas Monkey Live. Upon arrival, guests were greeted at the door by fire-breathers. After walking through draping on the door, guests were mesmerized by the red and white décor of the main room. Round tables were covered in red, with red and white striped napkins, mimicking the look of the Big Top. Several different centerpieces appeared on the tables: giant balloons with confetti, popcorn boxes with white carnations, and golden, mustachioed manikin heads wearing top hats with scattered rose petals. A large stage showcased a hula hoop artist, jugglers and men on stilts. A routine by a contortionist was performed on the bar.
Guest's meal began with a variety of hor d'ouevres like Margarita Bruschetta with Beefsteak Tomato, Fresh Mozzarella, Fresh Basil and Herb Infused Olive Oil; Smoked Comino Chicken Tostada with Crushed Avocado and Fresh Cilantro and an Avocado Shrimp Salad with Key Lime Vinaigrette in Toasted Crepe Cups.
The seated dinner was composed of a Mixed Greens Salad with Sliced Strawberry, Jicama, Candied Pecans, and Raspberry Vinaigrette and a choice of four entrees: Herb Roasted Chicken Breast with Chardonnay Velouté Sauce; Tender Beef Roast with Au Jus; Oven Roasted Salmon with Champagne Bruere Blanc; and Roasted Vegetable Napoleon with Balsamic and Fresh Rosemary. Accompanying each entrée was Fire Roasted Vegetables and Garlic and Herb Roasted Baby Red Potatoes and an Italian Cream Cake with Caramel Drizzle or Red Velvet Cake with Cream Cheese Frosting.
After the meal, the stage featured the band Cover Down, a seven-member party band playing rock, country and Top 40 music.
G Texas Catering is dedicated to bringing the vision you have for your event to life, indoors or out, at the venue of your choice. Our seasoned event planners can also offer insight on themes, sites, menus, decor and more. Contact us to begin planning your event
About Us:
G Texas Catering is one of the leading catering and special events company operating in the Dallas-Fort Worth area, providing upscale catering, bar services and event design for high profile corporate events, galas, conventions, social gatherings, special occasions and for some of Dallas-Fort Worth's top venues and meeting planners