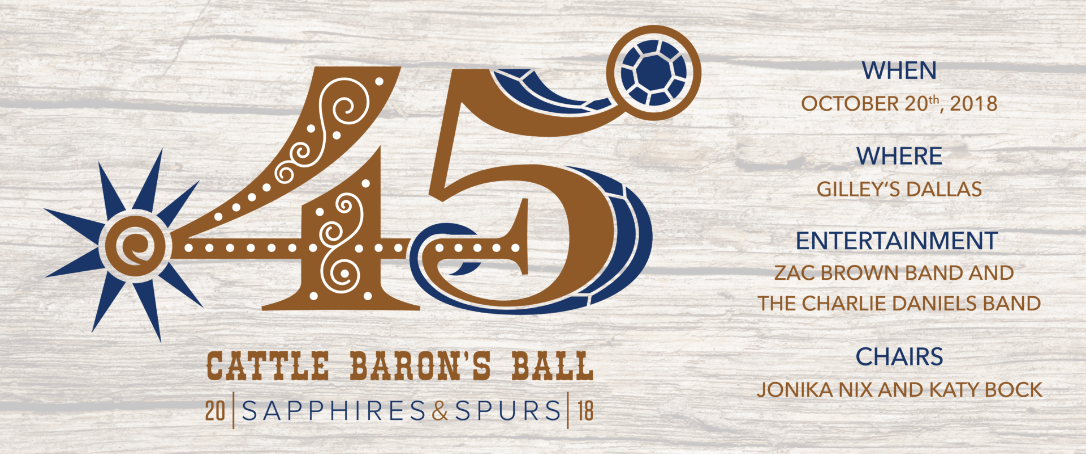 The Dallas-Fort Worth area is home to some of the largest events in the United States. Every year, hundreds of conventions, corporate meetings, festivals, parties and fundraisers take place in Dallas. One of the largest events in Dallas is the Cattle Baron's Ball – the largest fundraiser for the American Cancer Society. GTexas Catering is proud to sponsor this prominent event in Dallas by providing catering.
The Cattle Baron's Ball 2018, Sapphires and Spurs, is our 6th year to cater this amazing event. The event on October 20th at Gilley's Dallas is expected to draw 3,500 guests and raise millions of dollars for cancer research. If you will be Wear your jeans, boots and cowboy hat and be prepared to party the night away – and dine Texas style.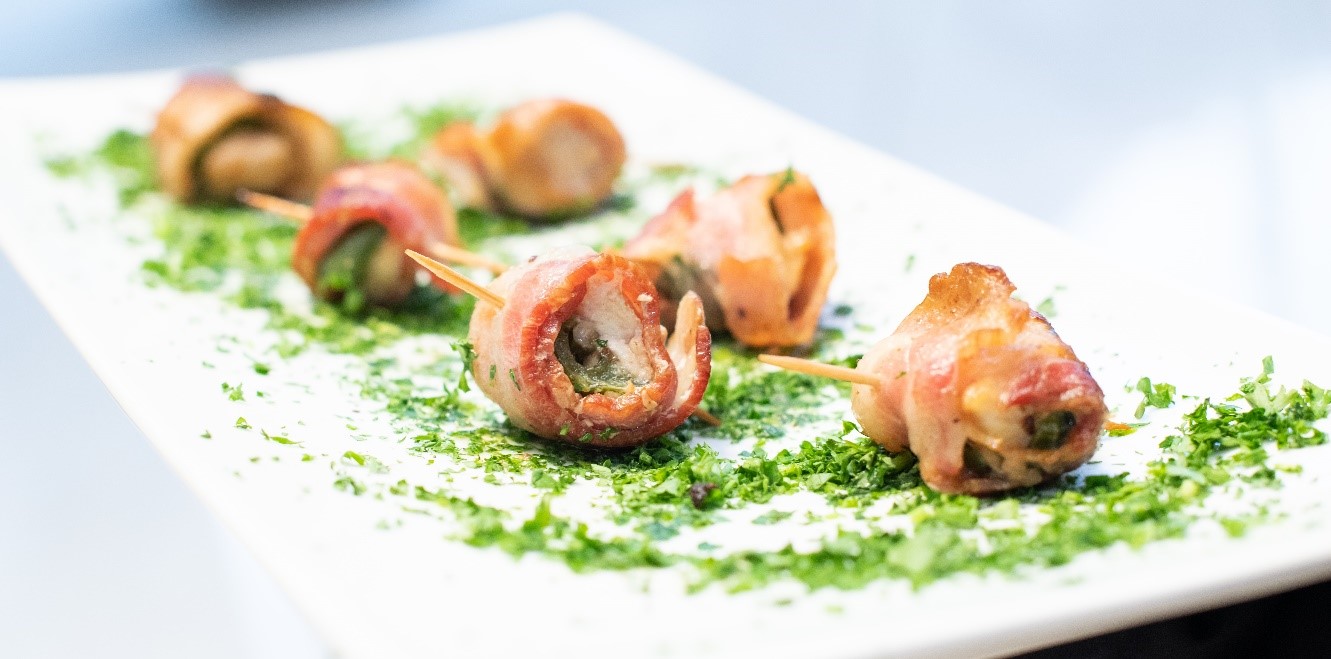 Dallas Catering: Hors-d'oeuvres
Guests at this event in Dallas will begin enjoying the Texas-sized menu at the threshold, with delicious appetizers. G Texas Catering is bringing some of our most popular menu items like Jalapeno Mac n Cheese Muffin with Smoked Cheddar, Roasted Corn and Red Pepper Relish served in a Tortilla Cup and the Chicken and Smoked Bacon Knot with Fresh Jalapenos. If you're ready to feel the heat – like a true Texan, try the Crispy Corn Crusted Jalapeno Poppers.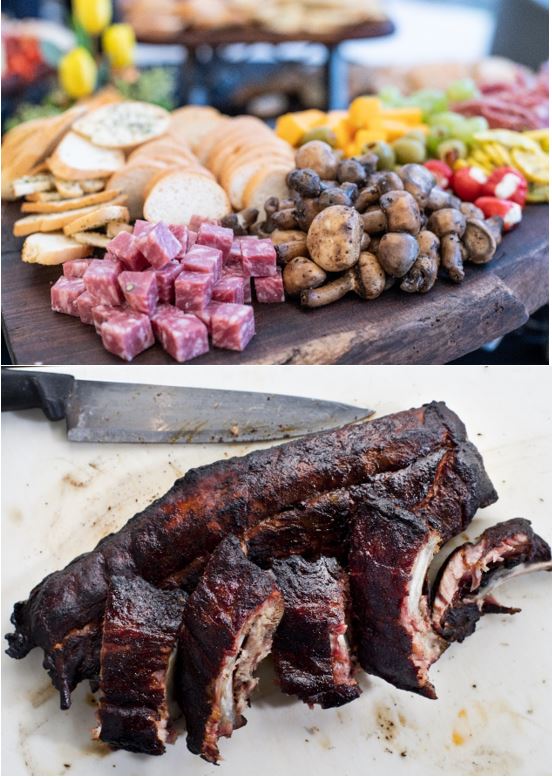 Dallas Catering: Food Stations
The style of service at the Cattle Baron's Ball is more unique compared to previous years. This year, G Texas Catering has created a variety of Texas-themed food stations to feed guests at this event in Dallas. Stationed menus are innovative in presentation and flavor. Small plated stations offer guests a variety of unique choices to satisfy their palate. Chef attended stations allow for a more interactive experience and adds that a la minute, extra freshness to plates. Here is a sneak peek of the delicious eats at the Cattle Baron's Ball:
The Farm to Table Nosh features Hill Country Smoked Sausages and Cured Meats, Garden Vegetable Crudite with Ranch Dip, Smoked Cheddar and Pretzel Chips.
Dine as if you were on an old-time authentic cattle drive at the Texas Chili Wagon where you will find delicious Shiner Bock Chili Pie with Fritos and all the fixings.
Where there is smoke, there is Delicious BBQ at the Hill Country Barbeque Pit. At this station, guests will enjoy Mason County Pit Smoked Brisket as well as Pit Rubbed, Smoked Beef Brisket lightly trimmed with marbled edges and served with a Vinegar Mop Sauce, Charbroiled Chili Rubbed Chicken Breast with Honey Beer Mustard Sauce and Hill Country Smoked Pork Sausage. Don't forget you're veggies – round out your meal with Kicked Up Barbeque Beans with Molasses and Red Onion, Red Skinned Potato Salad and Soft Yeast Rolls.
The East Texas Smokehouse will bring guests another slice of Texas with Chef Carved Smoked Turkey, Mesquite Smoked Pit Ham with Brown Sugar Glaze, Seasoned Pinto Beans with Jalapenos and Bacon, Homestyle Mac & Cheese, Sweet Cabbage Slaw and Skillet Corn Bread.
At the Skillet Potato Pancake Bar, our chefs have provided Traditional Potato and Sweet Potato Pancakes, pan sautéed and offered with your choice of seasonings, served with Black Bean Refritos, Shredded Cheese, Chopped Beef Brisket, Red Cabbage Cider Slaw, Esquites (spicy, street style corn salad) and Cotija Cheese.
Who could resist the "Little Bit of Chicken Fried" food station? In a nod to the Zac Brown Band, we will offer Crispy Fried Buttermilk Breaded Chicken served atop a Toasted Belgium Waffle with your choice of Cilantro Honey or Warm Maple Syrup, served with Creamed Sweet Corn.
The Texas Shrimp and Grits station will offer Sauteed Gulf Shrimp with Tequila and Lime, served with Green Chili Grits and Mini Corn Muffins.
The Tailgater's Station features Flame Grilled Cheeseburger Sliders with Grilled Onions or Tender Pulled Pork Sliders with Grilled Peppers. Create the perfect slider with toppings like Sweet Relish, Mustard, Mayo, Ketchup, Deli Style Pickles, Crispy Onion Rings and Cider Cole Slaw.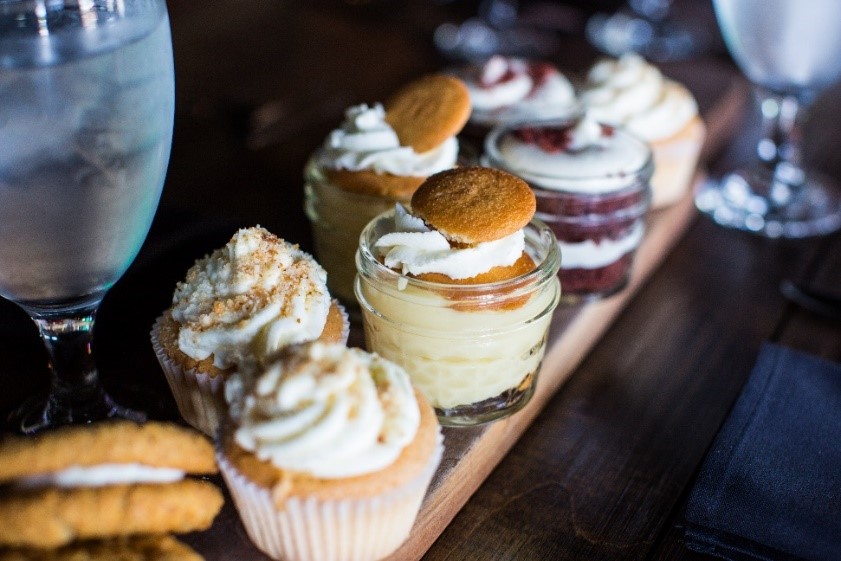 Dallas Catering: Sweet Treats
No meal is complete without dessert! G Texas Catering is creating a variety of desserts for guests at the Cattle Baron's Ball. Choose from (or choose several) Apple Cobbler with Vanilla Ice Cream, Warm Chocolate Chip Cookies, Homemade Banana Pudding with Nilla Wafers, and Amaretto Bread Pudding with Chocolate Sauce.
Dallas Bar Catering
G Texas Catering will be serving up delicious drinks at several bars placed throughout the venue. Be sure to visit the Shiner Bock Room, sponsored by Andrew's Distributing, and select from a variety of Shiner beers from our trained bartenders.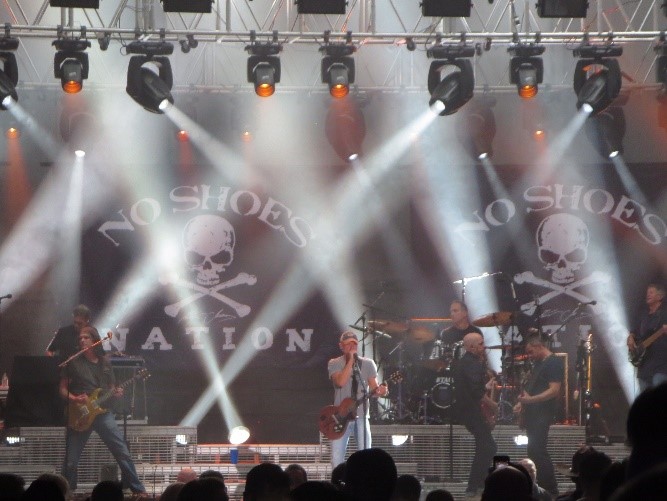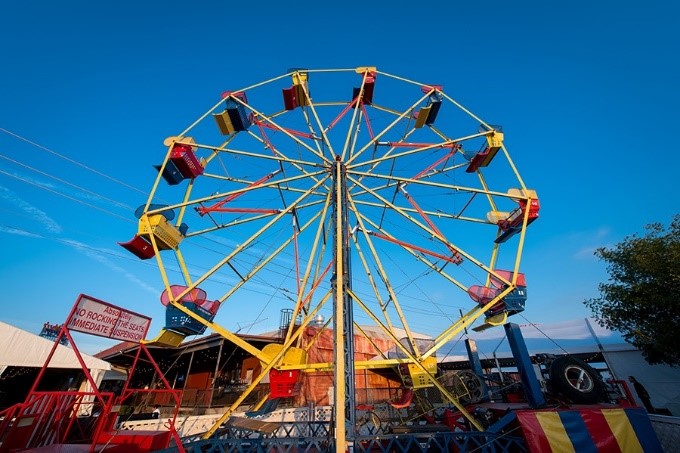 Event Entertainment
In addition to all the delicious food and drinks, guests at the Cattle Barons Ball can ride the Ferris Wheel to glimpse of an incredible view of Downtown Dallas and enjoy the Casino upstairs. Use your chips to play Poker or Blackjack or try your luck with Roulette. Try to beat the dealer on the Craps table – it's all fun and games at this casino. All the money raised at the auction sites are scattered throughout the building go to the American Cancer Society's efforts to fight cancer. There are three ways to win an auction item: The silent auction, the raffle, and the live auction.
In the Silent Auction room, bid on the various items on display. The highest bidder at the end wins. A DJ presides over the music to keep things hopping with everyone's favorite songs.
Win amazing prizes with the Raffle:
Choose between a 2018 Range Rover Velar, Volvo XC40, Mercedes-Benz GLC300, and a Porsche Macan.

PlainsCapital $10,000 debit card

Bachendorf's 1.5 total carat diamond earrings

$10,000 Highland Park Village shopping spree

New Rolex Oyster Perpetual Datejust 36 Rolex watch

$5,000 Eatzi's Market & Bakery Shopping spree
Don't miss the Live Auction where The Charlie Daniels Band will be playing a rousing concert. Cheers will abound for the songs Simple Man, Orange Blossom Special, The South's Gonna Do It Again, and Bull Ridin' Son of a Gun. And most fans will hope to hear the classic that stayed at number one for 18 weeks, The Devil Went Down to Georgia. A few of the live auction items are:
An amazing trip for two to the Indy 500 race including airfare, tickets, hotel, dinners, race day police escort to and from the race and special access to the "pits." Also, one TAG Heuer Monaco Gulf Special Edition watch.

A perfect golf weekend for two at Arnold Palmer's Bay Hill Club and Lodge in Orlando, Florida, with airline miles to get there, a private tour of Golf Channel Headquarters with a behind the scenes visit to Morning Drive and Golf Central sets, along with the Golf Channel's celebrity talent.

To end the evening, the Zac Brown Band will play in the Big Tent. Known for hits like Toes, Keep Me in Mind, Colder Weather and the fan favorite Chicken Fried – they will bring down the house! For the best seat in the house, win the Live Auction Bid #11 for backstage access to the band during this performance at the 2018 Cattle Baron's Ball.

An upscale hunting trip for four to the Squaw Mountain Ranch in Jack County, Texas, interaction with famous athletes like Dallas Stars' Marty Turco, use of Tactical Pistol and Rifle courses and instruction, Long Range shooting, private chef and open bar.

A stunning three-night stay for 12 guests at one of these three oceanfront castles, Costa Careyes, Sol de Oriente or Sol de Occidente in Jalisco, Mexico with daily maid service and a personal chef. Upon arrival back to DFW, dinner for 24 in the Private Dining Room at Truluck's Seafood, Steak and Crab House.

A pampered three-night stay for two at Claridge's London for the ultimate African Safari ensemble including a Bespoke Safari Suit, and 18ct yellow African gold Elephant Hair Bangle, Cufflinks and Dress Studs. Also, visit to Annabel's private member's club and dinner with Pierre Lagrange.

Private party for 200 people at one of the eight spaces in Gilley's Dallas. Both George Dunham and The Bird Dogs will perform. Also included, a BBQ buffet by G Texas Catering and valet parking by Jack Boles Parking.
To end the evening, the Zac Brown Band will play in the Big Tent. Known for hits like Toes, Keep Me in Mind, Colder Weather and the fan favorite Chicken Fried – they will bring down the house! For the best seat in the house, win the Live Auction Bid #11 for backstage access to the band during this performance at the 2018 Cattle Baron's Ball.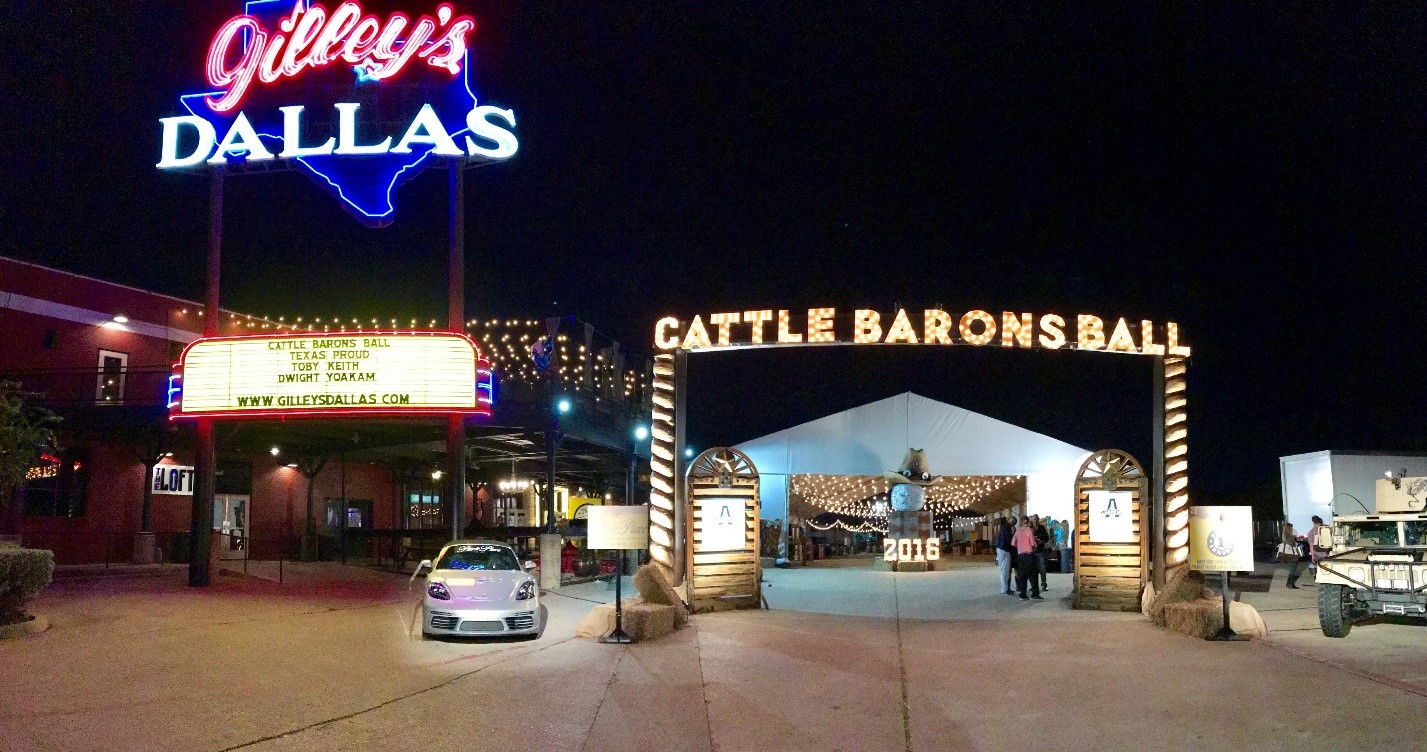 The After Party
Once the bands have played, the bids are all placed and the clock strikes midnight, you may feel you're winding down- but don't go home yet! The After Party is just beginning in the South Side Ballroom and will last until 2 am. Enjoy Jordan Khan Orchestra as they rock the house with their eclectic style.
G Texas Catering will keep the food coming all night! The Late-Night Breakfast menu includes Crispy Chicken Flautas with Creamy Avocado Dipping Sauce and Spanish Rice and Spicy Sausage and Egg Tacos with House-made Salsa. For guests who prefer a sweet start to their morning – The Party Resource's Donut Wall artfully holds a wide selection of tasty donuts for guests to enjoy. As the night comes to an end, each guest will receive a warm Chocolate Chip Cookie as they leave the event to go home.
Gilley's Dallas is located at 1135 S. Lamar Street, Dallas Texas. Tickets to the Cattle Baron's Ball are available at www.cattlebaronsball.com.
About Us:
G Texas Catering is one of the leading catering and special events company operating in the Dallas-Fort Worth area, providing upscale catering, bar services and event design for high profile corporate events, galas, conventions, social gatherings, special occasions and for some of Dallas-Fort Worth's top venues and meeting planners