A wedding is many things: a ceremony, a party, the joining of two families – the list is a mile long! When you look past the décor, flowers and the dress, a wedding is a celebration of love! While planning your wedding, spend some extra time and consideration on the most important part of any celebration – the food! By now you've probably determined what your wedding ceremony will look like. Maybe it's traditional, classic, boho or casual – let your imagination run wild. Whatever your theme is, it should reflect the style and personality of you and your fiancé! The same rule applies to the after-wedding reception. Your wedding caterer in Dallas will help complete the vision you have for your wedding celebration that you want to share with your guests.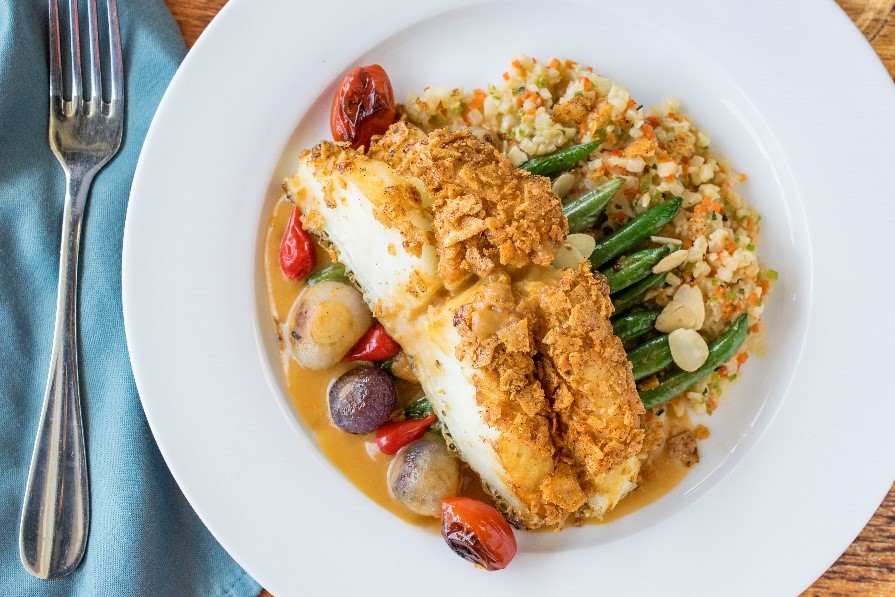 Sit-Down Dinner
The sit-down dinner is traditional and often used. The tables will be set before the dinner with centerpieces, plates, silver and glasses. Guests are generally served 3 or more courses by wait staff as they sit at assigned seating.
The benefit is that everyone has a seat at a table, and all are served at the same time. This lets you easily manage the time at your reception for the other activities you may want, such as speeches, cake cutting, special dances, etc. The sit-down dinner also allows you to easily budget for the amount of food you need with little waste. It is also simple. The bride can rest easy knowing that the sit-down dinner is handled by the wedding caterer and she won't have to worry about any details.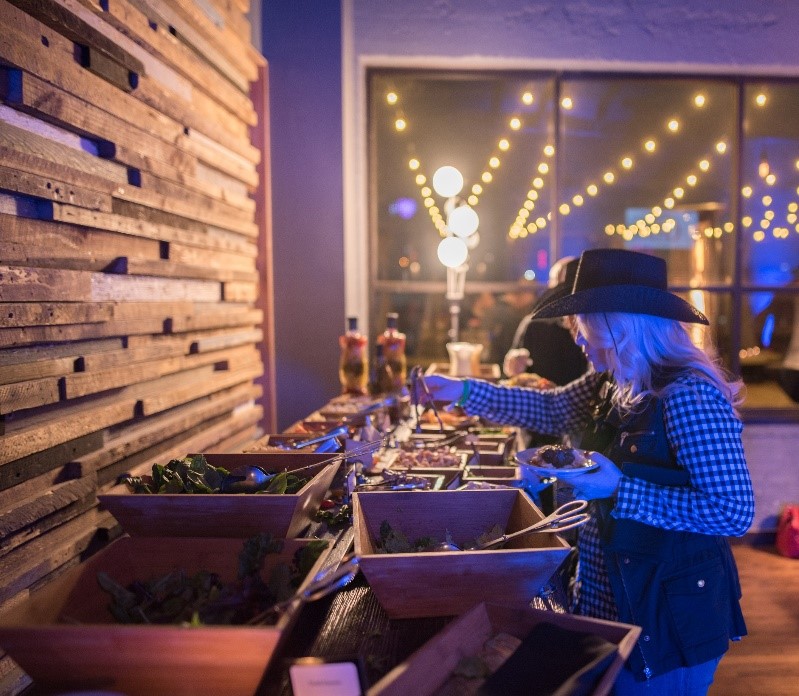 The Buffet
A buffet is served at one or more long tables. The guest takes a plate, chooses preferred foods as they move down the table, and then goes to an assigned or unassigned table to enjoy their meal. This wedding catering option works wonderfully for large parties of 100+. As you can imagine, a buffet allows for more food variety which is great for guests with special diets and a variety of palates while saving costs on waitstaff.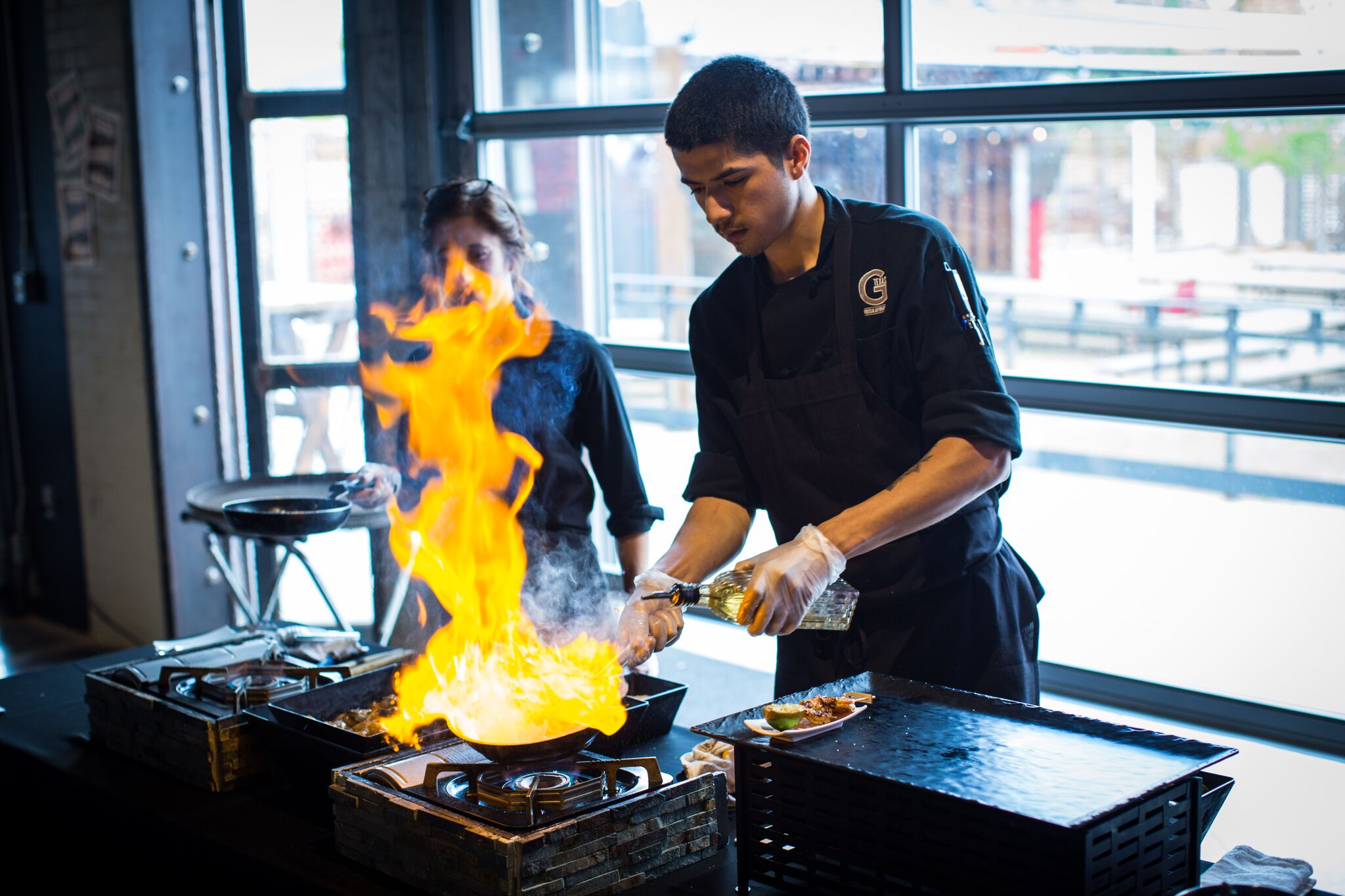 Food Stations
Food stations are similar to the buffet option in that guests will choose their own food and seating can be assigned or unassigned. The difference is that one long table is not used. Instead, several different food stations, with one theme each, are placed around the reception area. There will be several related foods at each station. For example, a Barbeque food station could have Smoked Turkey, Mesquite Smoked Ham with Brown Sugar Glaze, Seasoned Pinto Beans, Mac & Cheese, Sweet Cabbage Slaw, BBQ Sauce and Skillet Corn Bread. Another station may hold all the fixings for Fried Chicken and Waffles and another station may house a selection of salads or even a selection of desserts. The type and number of food stations is determined by the number of guests and the preferences of the bride and groom. This option works wonderfully for large groups (100+). The large variety of food can easily accommodate specialty diets and the theme of your reception. Another advantage of this reception style is that guests may mingle and interact easier as they wander from station to station.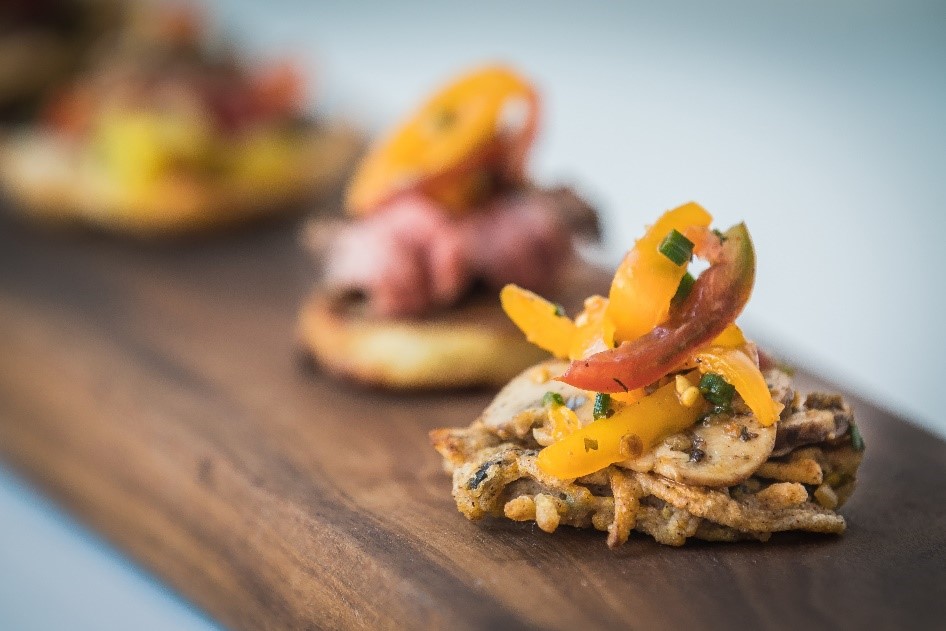 Hors D'oeuvre Reception
The perfect choice for a smaller wedding reception is an hors d'oeuvre reception. Your wedding caterer can station, or tray pass the hors d'oeuvres to your guests during the reception. You can choose from a variety of options ranging from light to heavy, Asian-inspired to traditional American flavors, or a custom menu created just for you! An hors d'oeuvre reception is an ideal option for keeping guests entertained during a cocktail hour before dinner for a bride who doesn't wish to serve a full meal at her wedding.
Make sure that your wedding reception is as beautiful as the one you planned on Pinterest and tastes as good as it looks! Contact us to begin planning your wedding catering today!
About Us:
G Texas Catering is one of the leading catering and special events company operating in the Dallas-Fort Worth area, providing upscale catering, bar services and event design for high profile corporate events, galas, conventions, social gatherings, special occasions and for some of Dallas-Fort Worth's top venues and meeting planners