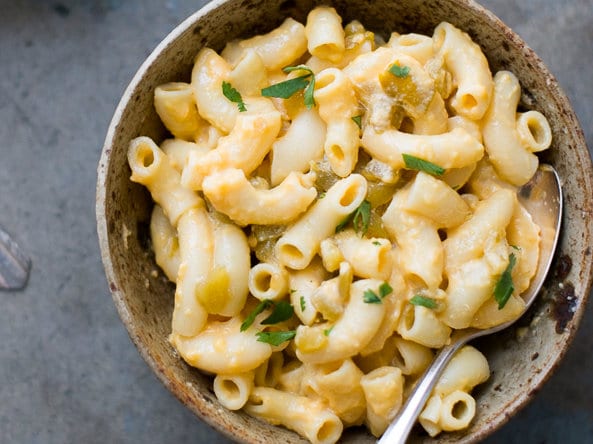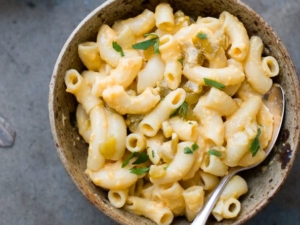 One of the most important factors to consider when planning a catered event is seasonality. Ask your Dallas caterer about what ingredients are in season during the time your event will occur. Your caterer in Dallas should also recommend popular food items from the area and incorporate them into your menu as well! This time of year, in the Southwest United States is known as Hatch Chile Season! As a caterer in Dallas, our culinary teams love to spice up traditional dishes with Hatch Chiles every year – one of our favorites is Hatch Chile Mac and Cheese! Here is how you can re-create this super simple but delicious dish at home!
Hatch Chili Mac and Cheese
Serves (4-6)
Ingredients
2 Large Hatch Chile Peppers
8 oz of Elbow Macaroni
6 oz Whipping Cream
4 oz Smoked Cheddar grated
1 teaspoon Kosher Salt
1 teaspoon Minced Garlic
1 teaspoon Butter
Directions
Over an open flame, roast both sides of the Hatch Chiles until they blister. Place the blistered Chiles in a covered dish (such as a bowl with plastic wrap) and let them sit for about 5 minutes. While they sit, the Chiles will begin to sweat. Rinse the Chiles in cold water until their skin has been removed (if you have sensitive hands, you may want to wear gloves). Remove the seeds and finely dice the Chiles.
In a 4-quart saucepan add 2.5 quarts of water and the kosher salt. Once this begins to boil add the elbow pasta stirring regularly. Elbow takes about 9-11 minutes to cook. Once cooked remove from heat and drain
Meanwhile in another 4-quart saucepan melt the butter and add the diced Hatch Green Chiles and garlic. Sautee for 1 minute stirring with rubber spatula or wooden spoon. Reduce heat to medium and add whipping cream. Once cream begins to simmer (not boil), slowly add in the smoked cheddar 1 ounce at a time, using a wire whisk to stir.
Add your warm, drained elbow pasta to your cheese sauce, top with cheese or breadcrumbs – or both and enjoy!