Located at the Hall Arts Dallas, the Hall Terrace and the Texas Sculpture Walk are two stunning event spaces that provide contemporary event planning and catering services for corporate and private functions
G Texas Catering Call: 214-421-0774 
Discover the beautiful Hall Arts Dallas Terrace and the scenic Texas Sculpture Walk for your next Corporate event or Social gathering
The Hall Terrace is a hidden treasure in the Hall Arts Dallas complex, with a prime view of the Dallas skyline for corporate functions, social gatherings or private events. This event venue is an excellent choice for guests looking to host intimate functions and gatherings in the Dallas Arts District, with two beautiful outdoor event spaces available for booking. The space provides ample accommodations and a flexible design to fit any event theme. Both the Hall Terrace and the Texas Sculpture walk feature an upscale setting and a modern design for hosting the most high-profile events. Comprehensive Catering by the Artisan Dallas and Event Services provided by G Texas Catering will deliver the best possible experience for your guests during your upcoming event. Our event planners will explore the endless potential of the space with skillful event planning, custom-designed catering menus, and hand-crafted cocktails.
Set atop the lofty Hall Arts Dallas building, the terrace offers a scenic view of the Dallas skyline and a vibrant backdrop for your corporate or private function. The Hall Terrace provides 4,262 sq. ft. of flexible event space that can be used for intimate or medium-sized functions. Guests can enjoy formal seated dinners for up to 200 or reception-style events for a guest count of up to 300. The terrace lawn is perfect for hosting a cocktail hour with a savory display of tray-passed hors d'oeuvres and signature drinks for your guests. Live bands can be incorporated into the design of your event to provide ambient music during the cocktail hour, with tables and seating readily available to service your event needs. Our event planners are equipped with the necessary tools and vendor relationships to execute a flawless event for both you and your guests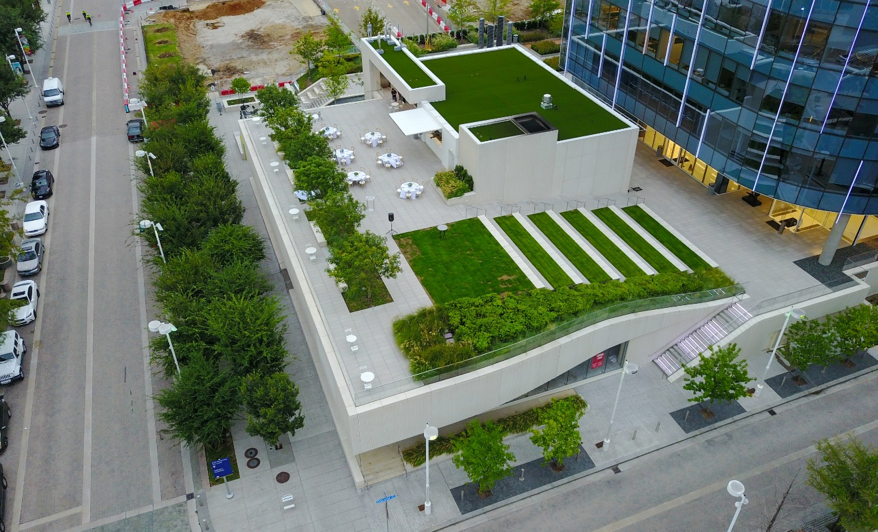 Innovative catering and event design in the heart of the Dallas Arts District
At the forefront of both event space's design is a focus on contemporary sculpture and art. Hall Arts Dallas showcases a collection of innovative art from all over the world, and the Texas Sculpture Walk features 10 works by some of the state's most renowned artists. The marriage of art and design provides tenants of the Hall arts complex and guests alike with a unique, first-hand experience of works that inspire imagination and productivity. The Texas Sculpture Walk delivers a lively setting for events and allows guests to explore a non-traditional approach to art with the strategic placement of these works on a landscaped walkway. The beautiful Sculpture Walk is an exceptional choice for any event, with approximately 9,805 sq. ft. of space for 300 seated guests and 400 reception-style. Guests will enjoy first-class accommodations while taking in the picturesque surroundings of the Hall Arts building.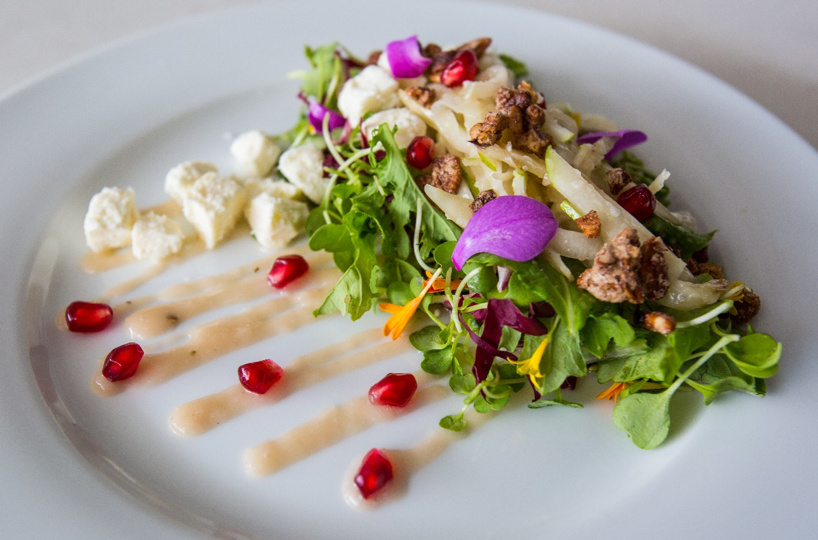 G Texas Catering Call: 214-421-0774 
Catering provided by the Artisan Dallas and Event services by G Texas Catering will ensure that your event is managed efficiently. The Artisan offers extensive catering menus tailored to fit a variety of event settings, taking a farm-to-table approach to catering services with innovative culinary design. The artful culinary creations by our team of chefs at the Artisan are perfect for the events held at the Hall Terrace. Stationed or passed-hors d'oeuvres, plated dinners, and buffet-style service are catering options available to make your upcoming event a success. Both the Hall Terrace and the Texas Sculpture Walk are two exquisite event spaces that offer endless possibilities and impeccable services to execute your vision.  
If you are interested in booking this venue for your next corporate or private function, contact us or one of our Sales Professionals at (214) 421-0774